Ok, want to lower your T4. Its easy, heres how to do it.............
Firstly decide how much you want to lower it, and how much weight your going to carry. For the purpose of this thread i'll use my works van as an example:
Picture before lowering
Now, I carry a lot of weight in the back, so I bought a good quality sey of springs (you only need to cnange the rears). I bought a pair of KW's -40mm. Your looking at about £170 - £180
retail
for these, so they're not the cheapest, but they are seriously chunky. Best place to get your springs is the Brickwerks, see the bit in reccomended traders. Dont forget to ask for your discount!
This pic shows the old and new, (new are obviously the yellow ones)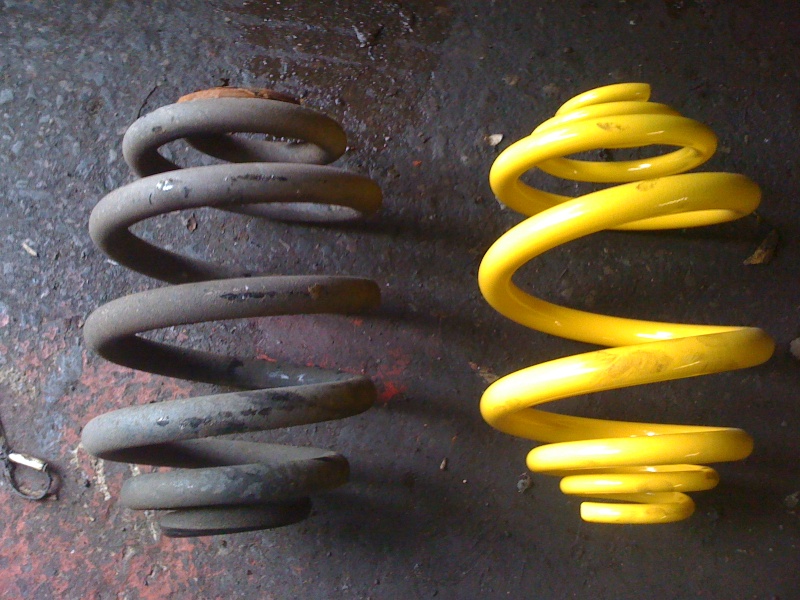 Ok so youve got your springs, the next step is to get the back end of the van up on axle stands, and remove rear wheels. Remove the bolt at the bottom of the damper, you may need to hold the damper to stop it from spinning. Pull down the trailing arm and take out the spring. Put new spring in, replace the bolt after smearing coppaslip on the threads. Wheel back on, off the axle stands, and the jobs a goodun. It will take a while for the new springs to settle, so dont be upset if your van dosen't look low enough, it will get lower!
Ok, to the fronts, now this is most important,
YOU MUST PUT THE VAN ON AXLE STANDS
to take the weight off the front wheels. No need to remove them this time, but you need to get under the van. Behind the fuel tank, you'll see a large 18mm thread with a 27mm nut on both sides of the van. Give these threads a good wire brushing and a squirt of releasing oil. Go and have a cup of tea, while the oil soaks in.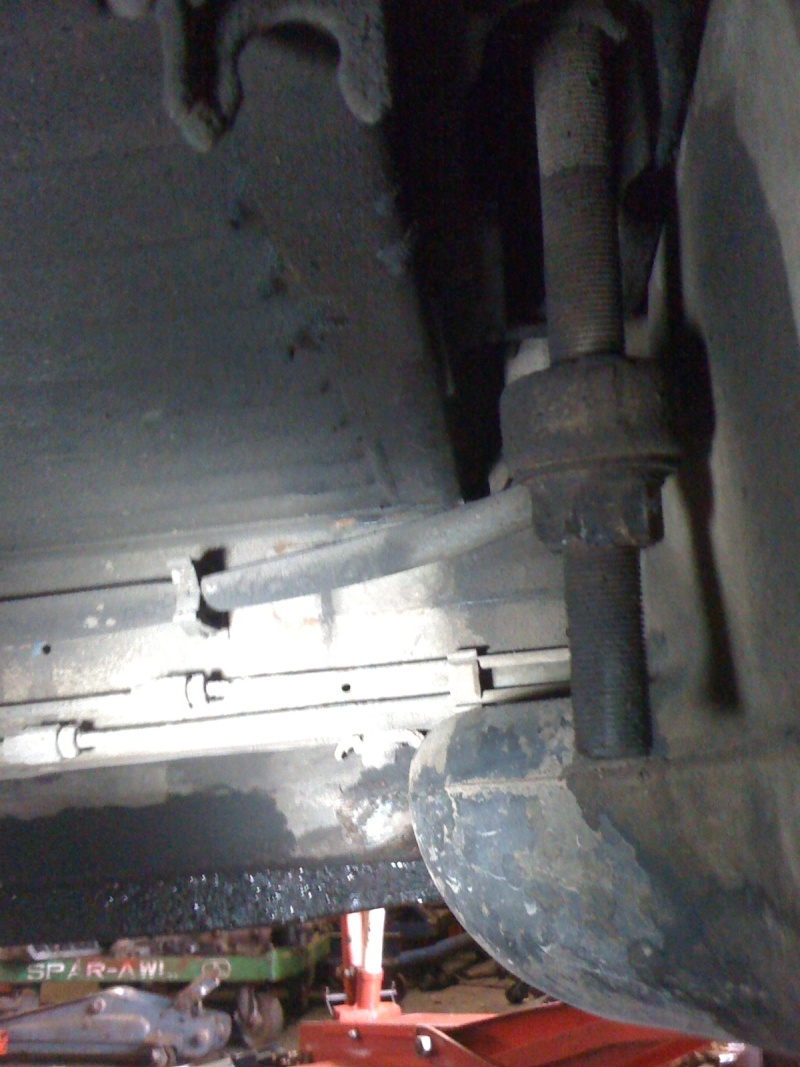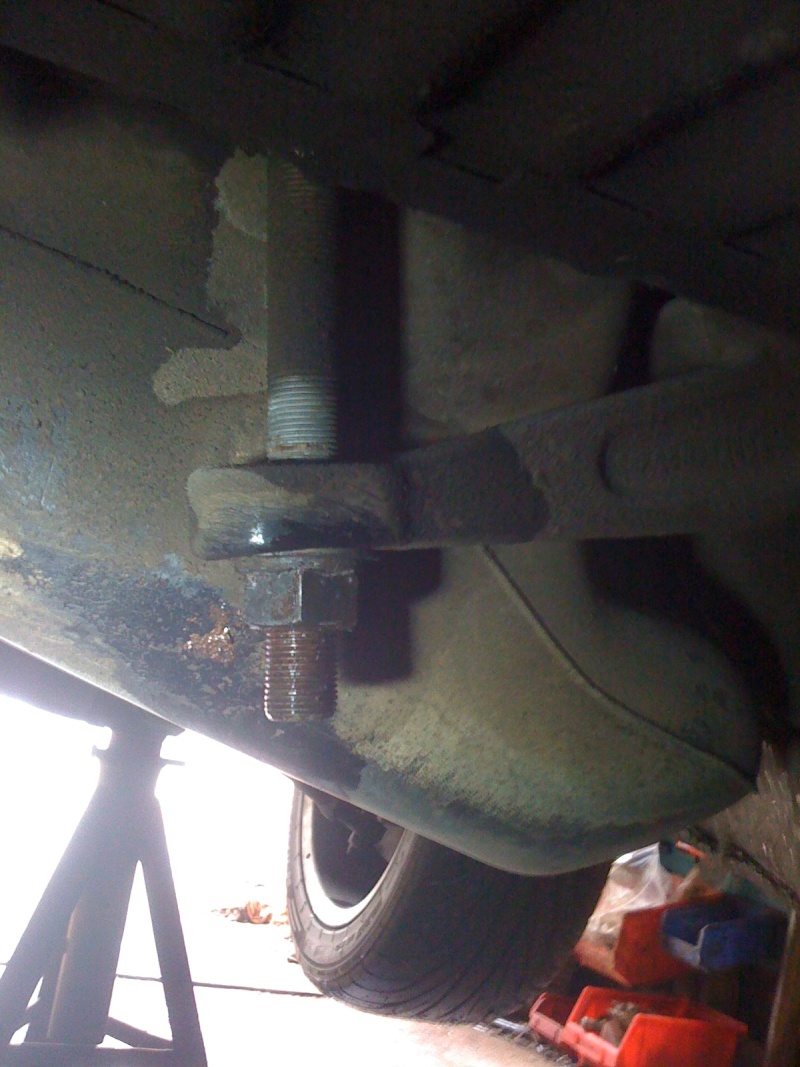 You'll see the top picture of these two is before winding down the nut. For very 10mm you wind down, it will drop your van 25mm.
Do not wind down any more than 20mm
as the top of the adjuster can come out of place, and you then have a grotty job on your hands to get it back in.
Take van off the axle stands and it should look a bit lower! As soon as you can, get your steering geometry checked, it will need adjusting. TTS tyres in totnes will do this for you. See 'recommended traders' for their details.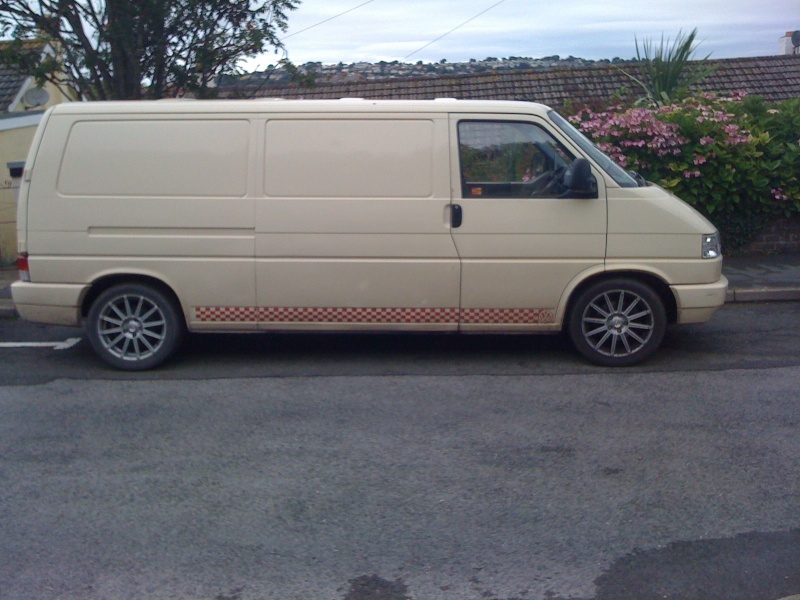 Finally.
Do not attempt this if you are in any way not confident with this type of work. Take it to somebody who knows what they are doing.
























Last edited by DEVON.DAVE on Mon 3 Aug - 10:04; edited 1 time in total (Reason for editing : cause I can)
Verwaltung




Posts

: 282


Join date

: 2009-06-02


Age

: 37


Location

: Orce, Granada. Spain



nice one dave..well done you..
thats a good bit of info for everyone..
i should have done one on how to change a cv boot on a T3 drive shaft..what a pain..
Hauptgefreiter




Posts

: 154


Join date

: 2009-06-02


Age

: 50


Location

: plymouth



Howzabout how to change the power steering pump - got to do it soon. Could a numpty do it??
Hauptgefreiter




Posts

: 122


Join date

: 2009-07-13


Age

: 46


Location

: Exmouth



I hope so, gotta do mine too, he's growlin like a dawg!
Verwaltung




Posts

: 282


Join date

: 2009-06-02


Age

: 37


Location

: Orce, Granada. Spain



jim ill do it mate bring it into work when we get back!!!!!!!!!! just be my monkey for the night????????????????
Gefreiter




Posts

: 47


Join date

: 2009-08-06


Age

: 49


Location

: Newton Abbot




---
Permissions in this forum:
You
cannot
reply to topics in this forum