hello peeps... so looking forward to the future with our new bus.. never owned one before thought they would be out of our reach. how times have changed. so we brought our vw carravelle/multivan T3 (right hand drive) last week from Mark @Kombi Klassics, his families personal wagon.. he ( the van) is just lovely, apparently Mark brought from someone in cornwall/devon area. only 3 owners and apparently the last owners fella was a proper VW nut. and it shows as it runs like a dream. we are looking to have some minor body work doing and sprayed down each side. will probably have a swivel seat base fitted. it allready has the multivan rear seat/bed and a buddy seat to be fitted.has the what i belive is a rare full sliding roof, Mark put him back to stock hieght hight and wheels,so many thoughts as to what to do. but won't be converting to a camper as we will use it daily for the babies and friends and family. poping down to spain to see family. but will be going down to devon, have family in Cullompton and Exeter. i will post some pics if i can.. catch you all soon
Howdy fella, sounds like youve got yourself a nice van, factory sliding roof too! Get some pics posted! Where abouts in Spain?
Verwaltung




Posts

: 282


Join date

: 2009-06-02


Age

: 38


Location

: Orce, Granada. Spain



they live outside barca.. Sain cugat and another pal lives in falset.... pics as soon as i can
god this took forever to work out..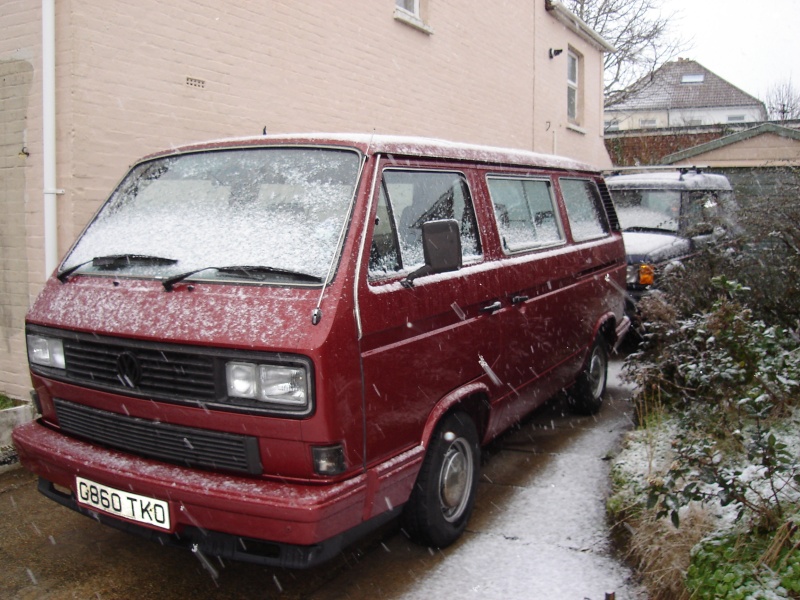 we like him...
Lovely clean bus that! It reminds me I must get my headlining replaced on mine. I tried to do it myself, but it all went messy when i got to the sliding roof. Anybody recomend someone to do it in the N. Abbot / Torbay area?
Verwaltung




Posts

: 282


Join date

: 2009-06-02


Age

: 38


Location

: Orce, Granada. Spain



hello bud i have just started out close to you hes a link to my website http://v-tec.website.orange.co.uk/ i hope if you need anything doing or any help just give me a call many thanks rob
Soldat




Posts

: 2


Join date

: 2010-01-11


Age

: 38


Location

: verwood




---
Permissions in this forum:
You
cannot
reply to topics in this forum